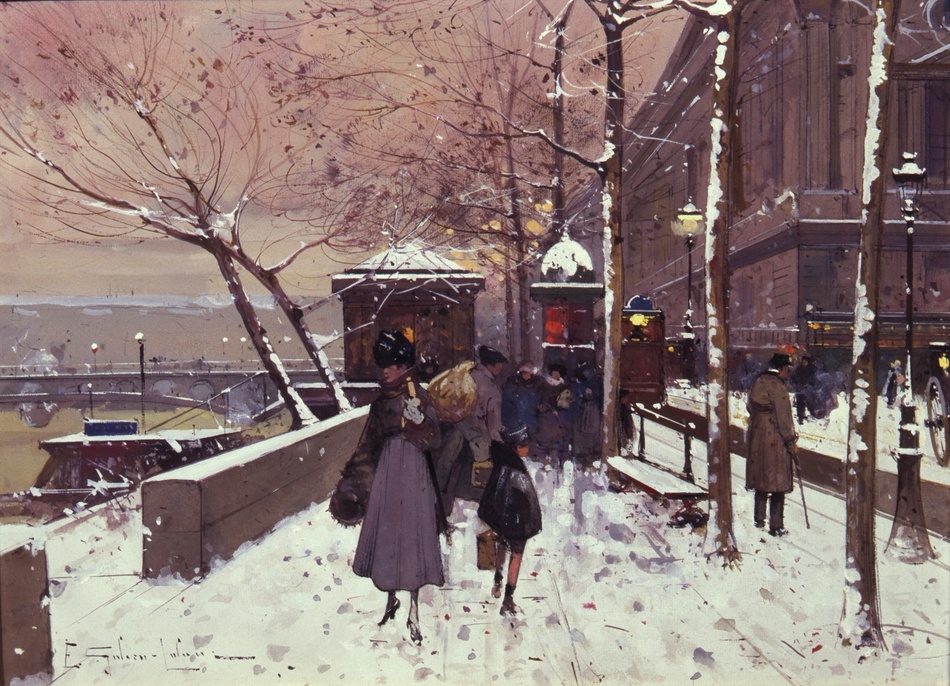 Eugene Galien-Laloue
French, 1854 - 1941
Paris Street Scene - On the Seine
Gouache on paper
9 3/4 x 13 3/4 inches (24.77 x 34.93 centimeters)
signed lower left: E Galien Laloue*
SOLD
Eugene Galien-Laloue (French, 1854 - 1941)
Eugene Galien-Laloue the oldest of nine children to Charles Laloue, was born in 1854 in Montmartre, where he lived for most of his life. In the mid 1870?s Laloue was employed by the French Railway lines as an illustrator, giving him an opportunity to travel through France and paint country scenes and landscapes. His favorite subject, however, was right outside his front door: Parisian city life.
Residing in Paris during and after the time of Baron Haussman?s reconstruction gave him the chance to create an accurate record of these amazing changes. French, American and British collectors came to Paris, and seeking to bring home with them the vibrancy they found there, they looked to Laloue?s meticulous paintings to keep this memory alive.
Galien-Laloue was not interested in fame or academic recognition, and although he relied on various contracts with dealers for a stable income, he continued to paint for the love of his craft and only sold this work for a minimal price. Eugène Galien Laloue worked under many pseudoynyms, possibly for contractual reasons. The three most frequent names in which he signed, in addition to his own, were "J Lievin", "E Galiany" and "L Dupuy".
Selected Museum Collections:
National Museum of Art of Romania, Bucharest