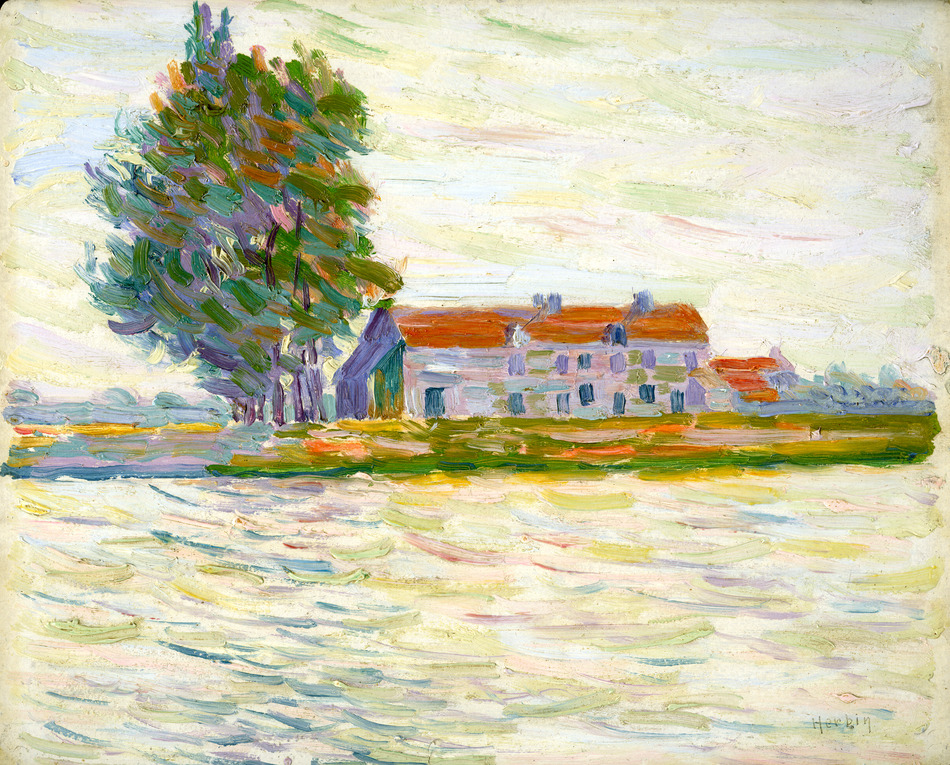 Auguste Herbin
French, 1882 - 1960
Maison au bord du Fleuve
C. 1906
Oil on board
8 5/8 x 10 5/8 inches (21.91 x 26.99 centimeters)
Signed lower right: Herbin
SOLD
Provenance:
Anon. Sale, Hôtel Drouot, Paris, 18 Apr. 1991, no. 159.
Literature:
G. Claisse, Herbin: Catalogue raisonné de l'oeuvre peint, Lausanne, 1993: p. 294, no. 88 (ill.)
Maison au bord du fleuve is a wonderful example of Herbin's Neo-Impressionist mode and demonstrates his grasp of shimmering color at this early phase of his career. The work depicts a river landscape with a grand house and tall trees. Broad planes of river and sky are painted in quick, parallel brushstrokes of pale color. A narrow band of jewel-toned riverbank, surmounted by an old house and oak trees, divide the river and sky. Herbin's palette is at once harmonious and brilliant, painted with a vigorous and lively brushwork.
Auguste Herbin (French, 1882 - 1960)
Active among those artists who helped to shape the development of Modernism at the beginning of the 20th century, Auguste Herbin began his studies at the Ecole des Beaux-Arts de Lille in 1901. He moved to Paris two years later and exhibited his Neo-Impressionist style paintings at the Salon des Indépendents. In 1909 he moved to the Bateau-Lavoir, a block in Montmartre famous for the outstanding group of modern artists who lived there, including Picasso, Gris, Braque and Modigliani. Here Herbin was immersed in the heart of the burgeoning Cubist movement: he very quickly began to integrate Cubist elements into his production and as early as 1910 his work was hung in the same room at the Salon des Indépendents as Metzinger, Gleizes, and Léger. In 1917 he moved on to an abstract, geometric phase before gradually discovering Constructivism. In 1929 Herbin was a co-founder of the 'Salon des Surindépendants' and two years later he founded the artist association 'Abstraction-Création' together with Vantongerloo, with whom he published the group's Almanach until 1937. After the war the artist was the co-founder and vice president - from 1955 also the president - of the 'Salon des Réalites Nouvelles'. Herbin's typical architectural approach and his color effects made his pre-war work widely known in the international art world. There was a large show at the Guggenheim Museum in New York in 1979 and he had works in the exhibition 'Positionen unabhängiger Kunst in Europa um 1937' at the Kunstsammlung Nordrhein-Westfalen in Düsseldorf in 1987.