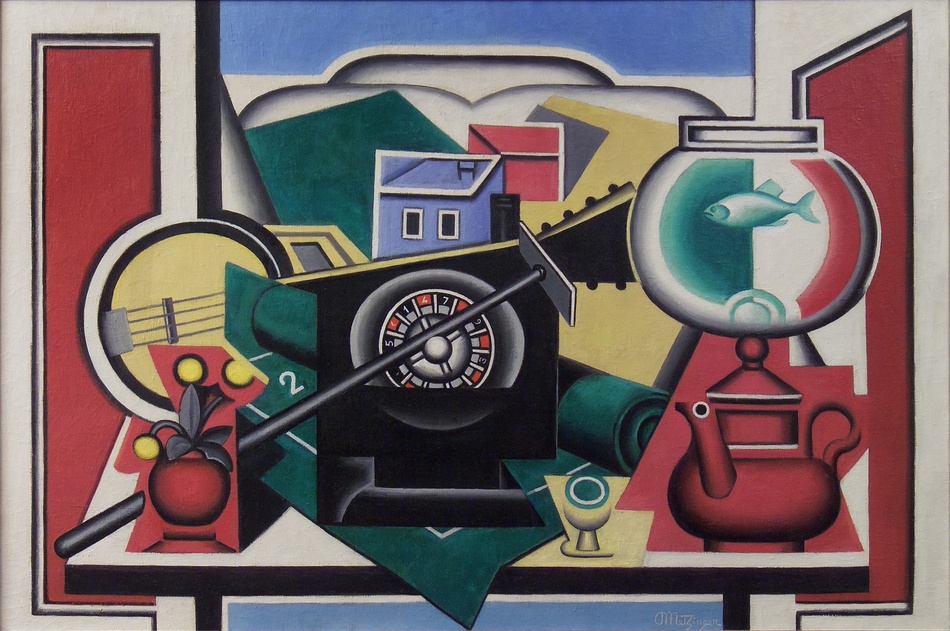 Jean Metzinger
French, 1883 - 1965
La Roulette
1926
Oil on canvas
38 1/2 x 57 1/2 inches (97.79 x 146.05 centimeters)
Framed: 47 1/2 x 67 inches (120.65 x 170.18 centimeters)
signed lower right: J Metzinger
SOLD
Provenance:
R. S. Johnson, Chicago, until 1972
Acquired from the above by Kmart Art Collection, 1972 –
Literature:
Jean Metzinger in Retrospect. with essay by Daniel Robbins. (Iowa City: University of Iowa Museum of Art, 1985): ill. p. 116, no. 218 (listed as location unknown).
Jean Metzinger was among the most important painters and theoreticians of the Cubist movement. In addition to being an influential painter who created an immense body of work, Metzinger, through his involvement with the first Cubist treatises and exhibitions, helped to frame the terms in which all Cubist work would be evaluated and discussed.
Painted in 1926, La Roulette shows Metzinger's development from strict cubism towards a Purist esthetic. Unlike the earlier forms of Cubism, during the 1920s, Metzinger shifted his focus to modern, somewhat realistic subjects painted in a meticulous, abstracted style. The present composition depicts various household items: a teapot, egg server, fishbowl, potted plant, and banjo, positioned upon a tabletop around a roulette wheel. Through an opening in the background lie the rounded shapes of a landscape and flat planes of a house. While most of the composition is painted in smooth, volumetric forms of bright color, the roulette wheel is positioned at center, upon the flat, black plane of its base. The quotidian items, painted in a decorative style, take on metaphysical significance when positioned around its dark shape, suggesting the randomness of fate and role of chance in life. Although the work is stylistically similar to the work of Ferdinand Léger, such allegorical themes made Metzinger unique among his contemporaries.
This "Purist" formal approach dominated Metzinger's work of the 1920s. The end of the First World War encouraged a revival of classical themes and a traditional approach to painting across Europe: this was the period of Picasso's bathers and the abstracted nude allegorical figures of Aristide Maillol. Metzinger responded to this "Call to Order" esthetic by painting in an increasingly realistic style. He saw no contradiction between this increasing realism in his approach and the formal purity of his earlier Cubism: in a December 1924 article in Bulletin de l'Effort Moderne he wrote:
It is now possible to go to the extreme limits of realism without falsifying the initial harmony…. In Cubism, which is now in evolution, our attention will be less concerned with the exterior object, and the model, than with the ensemble of forms and colors which constitute a painting…. The difference which separates this sort of painting from classical painting is however much less than would appear. All true artists always attempt to construct an interior and classic vision which is based on an exclusively classic order.
As Metzinger expressed in the above quote, his response to the post-war traditionalism in European art was purely formal: unlike many of his contemporaries who turned to classical themes, he continued to paint thoroughly modern subjects, such as La Roulette.
Jean Metzinger (French, 1883 - 1965)
Metzinger was born in Nantes, France, on June 24, 1883 and at the age of twenty moved to Paris to pursue a career as a painter. One of his early friends in Paris was Robert Delaunay. About 1908 he met the writer Max Jacob, who introduced him to Guillaume Apollinaire and his circle, which included Georges Braque and Pablo Picasso. Picasso was to have a significant influence on Metzinger from this time to about 1923. In 1910 Metzinger exhibited for the first time at the Salon des Indépendants. In 1910 and 1911 he published several articles on contemporary painting and afterward periodically contributed to the literature on Modern art. Metzinger was the first to note in print that Picasso and Braque had dismissed traditional perspective and merged multiple views of an object in a single image; his article on this subject appeared in Pan in 1910.
In 1911, with Robert Delaunay, Albert Gleizes, and Fernand Léger, Metzinger participated in the controversial Salle 41 at the Salon des Indépendants, the first formal group exhibition of Cubist painters. Together with these same painters, Metzinger began to frequent the studio of the Villon brothers at Puteaux, outside Paris. In this intellectually stimulating environment, in which discussion of philosophy and of parallels between science and mathematics and the new ?pure? painting were common, his aptitude for theoretical thinking was encouraged. The following year, Metzinger collaborated with Gleizes on Du cubisme, the first theoretical treatise establishing a foundation for Cubism. During that year he was also a founder of the Salon of the Section d?Or or ?golden section?, the very title of which was intended to draw attention to the mathematical foundations of Cubism and it?s connections to Classical systems of spatial organization. In 1912, Metzinger also exhibited at the Galerie de la Boétie in Paris with other members of the group, including Alexander Archipenko, Roger de La Fresnaye, Gleizes, Juan Gris, Léger, and Louis Marcoussis. In 1913 Metzinger?s work was again shown at the Salon d?Automne, and he continued to exhibit in the principal salons of Paris thereafter. This same year he took part in an exhibition at Der Sturm gallery in Berlin and shared a show at the Galerie Berthe Weill in Paris with Gleizes and Léger. In 1916 Metzinger showed with Jean Crotti, Marcel Duchamp, and Gleizes at the Montross Gallery in New York. After army service during World War I Metzinger returned in 1919 to Paris, where he lived for the remainder of his life.