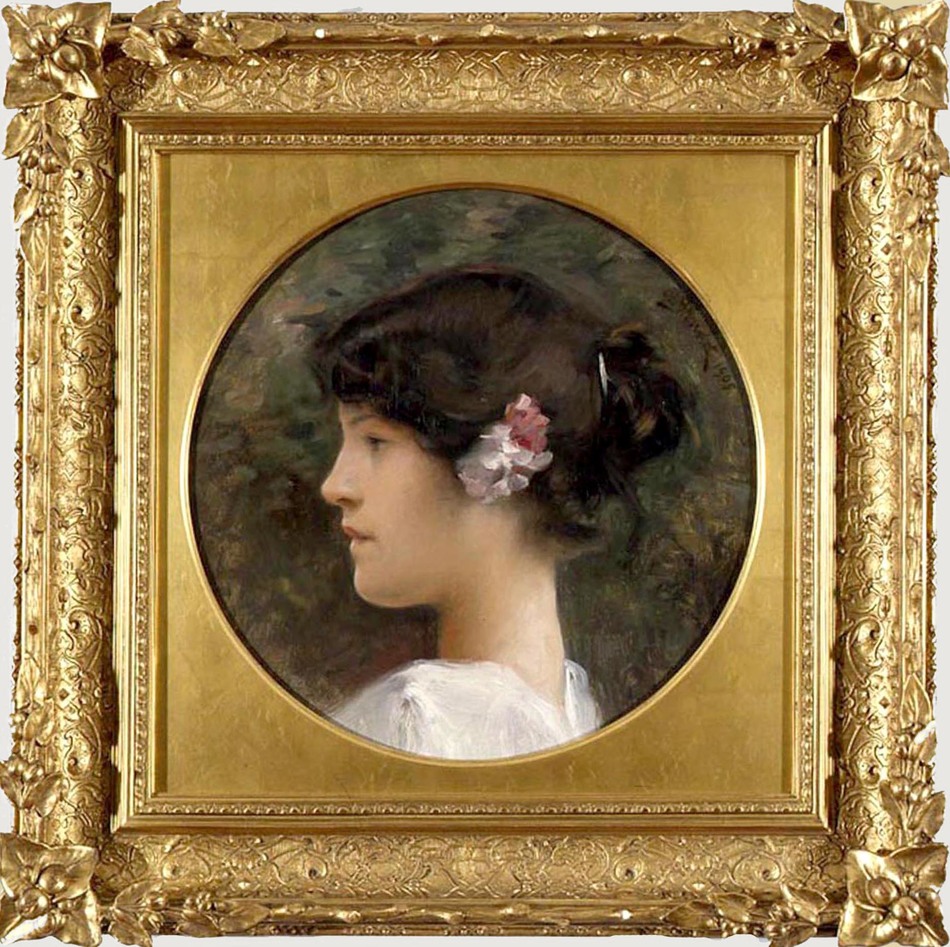 Julius Leblanc Stewart
American, 1855 - 1919
Profile of Young Girl
1905
Oil on canvas
16 1/8 x 16 1/8 inches (40.96 x 40.96 centimeters)
Framed: 24 1/2 x 24 1/2 inches (62.23 x 62.23 centimeters)
Signed and dated upper right: JL Stewart 1905
SOLD
Julius Leblanc Stewart (American, 1855 - 1919)
Born American, Julius Stewart had a life not unlike his famous contemporary John Singer Sargent. Both were born to American families yet were raised and educated in Europe. Stewart?s father, William Stewart, was a well-known art collector who helped to jumpstart the careers of many younger artists like Eduardo Zamacois, a Spanish painter who would later become Julius? first teacher when the Stewart family relocated from Philadelphia to Paris.
Young Julius grew up in Paris surrounded by art, artists and art collectors. Eventually he studied under Raimundo de Madrazo and was later enrolled in the atelier of Jean-Léon Gérôme. Stewart had his first success in the Salon of 1883 with his Five O?Clock Tea, followed by a hugely successful entry in 1889 entitled Hunt Supper. It was these pictures that most represented his subject matter and style: the fashionable, high society ladies of the Parisian upper class. He became one of the leading portrait painters of the city?s social elite, developing strong techniques in portraiture and figure painting, as well as capturing the exquisite surroundings in which they gathered ? cafes, gardens, banquet halls and living quarters of the wealthy.
Though he lived in France, Stewart remained active in the American art scene with shows and exhibitions, and French critics of the time recognized a style in his work that was European influenced but still uniquely American. Later, Stewart would add open-air nudes to his repertoire of subject matter. He remained in Paris until his death in 1919, continuing to exhibit in Europe and America as well as helping to bring more American artists into international exhibitions.
Selected Museum Collections:
Musée d?Orsay, Paris; The Walters Art Museum, Baltimore, MD; Château-Musée and Musée de la Voiture, Compiègne; Detroit Institute of Arts, MI; Los Angeles County Museum of Art, CA; Château-Musée, Nemours; Phoenix Art Museum, AZ; Musée de la Piscine, Roubaix