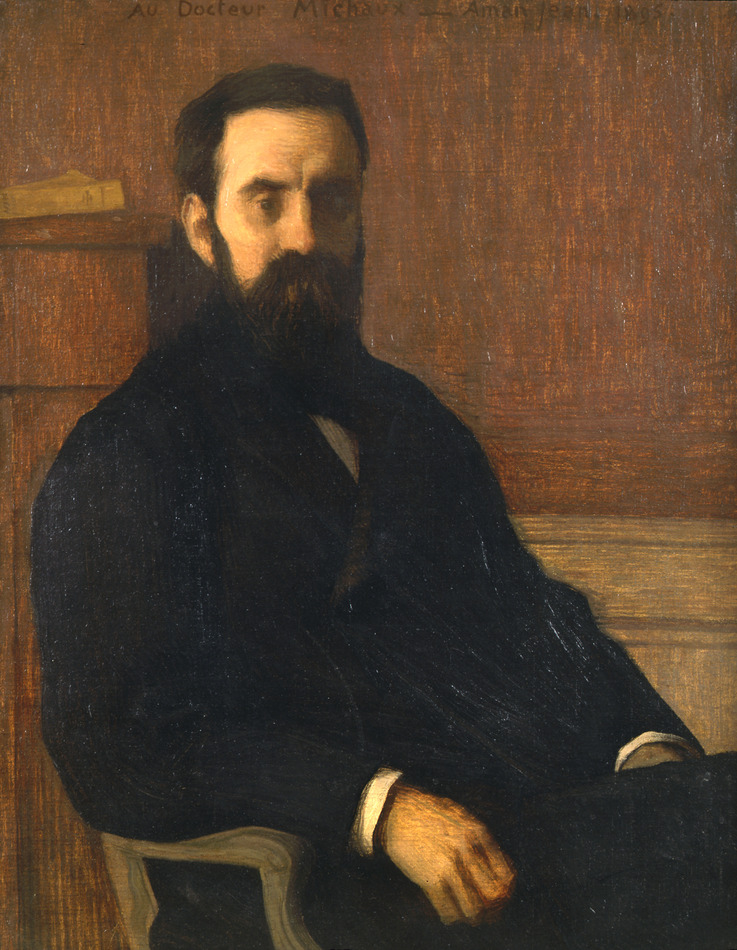 Edmond François Aman-Jean
French, 1860 - 1935
Au Docteur Michaux
1895
Oil on canvas
35 1/2 x 28 inches (90.17 x 71.12 centimeters)
Framed: 43 x 35 inches (109.22 x 88.9 centimeters)
Signed, inscribed and dated upper middle: Au Doctor Michaux Aman Jean 1895
Provenance:
Galerie Resche, Paris
Literature:
Patrick-Gilles Persin, Aman-Jean, peintre de la femme (Bibliothèque des Arts, Paris: 1993): ill. p. 54, pl. 63.
In 1895, both Aman-Jean and his wife contracted tuberculosis, prompting a move to Amalfi (near Naples, Italy) to recover. It is possible that the sitter, Doctor Michaux, treated the couple.
The present portrait is typical of Aman-Jean's works from the first half of the 1890s. He restricted his palette to dark tones such as black, gray, brown and white. During this time, he painted portraits almost exclusively, mainly of women. Because of the inscription, date, and dark tones of the present portrait, Aman-Jean probably painted it just before leaving for Amalfi, where, influenced by the atmosphere in the Italian town, his palette brightened. He remained there until 1897.
Edmond François Aman-Jean (French, 1860 - 1935)
Born at Seine-et-Marne, Edmond-Francois Aman-Jean went to Paris to study at the École des Beaux-Arts. In 1883 received a scholarship allowing him to continue his studies in Rome. He was a regular exhibitor at the Salon of the Société Nationale des Beaux-Arts where he came to know Seurat and Ernest Laurent. The three decided to leave the École des Beaux-Arts to study on their own and Aman-Jean shared a studio with Seurat. Aman-Jean received such honorary appointments as Commander of the Legion of Honor and juror for the National Salon. In 1923 he joined Albert Besnard to found the Salon des Tuileries, an alternative to the annual Salon Nationale. Aman-Jean also wrote numerous articles on art as well as Salon reviews for various publications throughout his career.
Selected Museum Collections:
Brest. Musée des Beaux-Arts; Cleveland, Museum of Art; Dijon, Musée des Beaux-Arts; Douai, Musée de la Chartreuse; Lyon, Musée des Beaux-Arts; Metz; Nantes; New York, Metropolitan Museum of Art; Paris, Musée du Louvre; Paris, Musée d?Orsay; Paris, Musée du Petit Palais; Reims; Rouen, Musée des Beaux-Arts; Saint-Quentin, Musée Antoine Lécuyer; San Francisco, Fine Arts Museums; Stuttgart; Toronto, Art Gallery of Ontario; Williamstown, MA, Clark Art Institute;