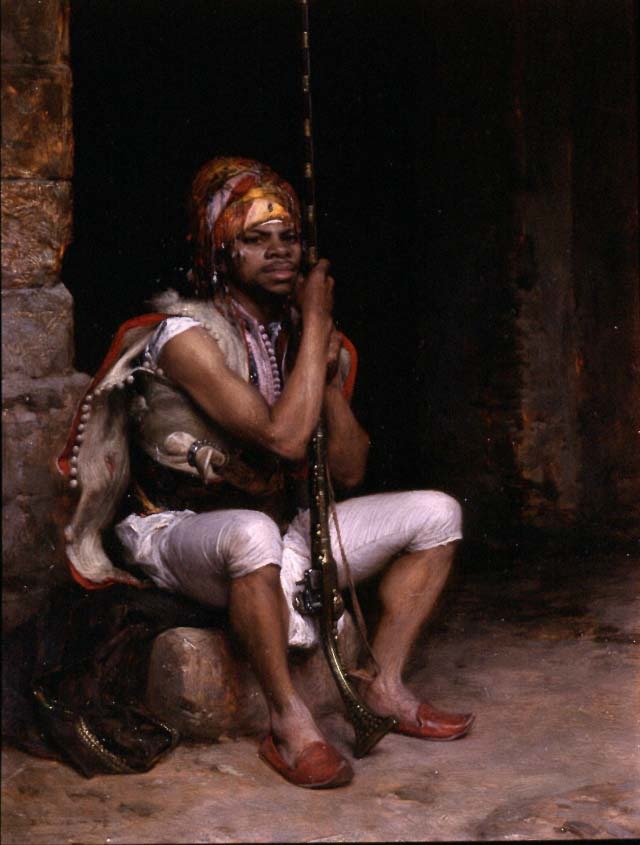 Charles Bargue
French, 1825 - 1883
Nègre Assis / The Sentinel
1872
Oil on panel
10 x 7 3/4 inches (25.4 x 19.69 centimeters)
Signed and dated BARGUE – 72
SOLD
Provenance:
The artist to Goupil et Cie., Paris, April 16, 1872, inv. #6371 (appears in black ink on verso), for 4000FF. (Goupil et Cie., Ledger, v. 5, p.214, Getty Museum Research Institute, Special Collections)
Goupil, Paris, Place de l'Opéra office, May 11, 1872, to a Mr. Fox of Manchester, for 5000FF. (The same individual had purchased Bargue's Fumeur there for 1400FF the previous year. (Ibid., p. 132.)
Cincinnati Museum Association (?), by 1926.
Mr. Louis Daniel, Cincinnati, sometime before World War II.
His daughter, Mrs. Deborah Long, by descent, c.1986, to Dec. 3, 2001.
Private collection, Bethesda, MD. thereafter.
Literature:
Boussod, Valadon, et Cie., Paris, (successors of Goupil), Photographies de Tableaux, vol. 1, #12,100. (Series 7, box 53, Getty, Special Collections)
Edward T. Wilson, Charles Bargue: Academic Realism's Unsung Virtuoso, catalogue raisonné, forthcoming.
Exhibited:
Probably, The Fearon Galleries, N.Y., Exhibit of the Works of Charles Bargue, March 15-31, 1926, cat. #1, as: The Sentinel, loaned by the Cincinnati Museum Association
One of the first in a series of important small genre oils on panel, Bargue's Nègre Assis of 1872 was his first Orientalist work, no doubt inspired and abetted by J. L. Gérôme, with whom he shared a studio at the time. Two highly finished paintings had preceded it in 1871: A Sleeping Footman (Metropolitan Museum of Art, accession #81.1.565) and Un Vendéen Fumeur/Breton Fumant (private collection, Bethesda, MD) . Neither of these earlier works displayed the brilliant colors for which Bargue was admired in France, Britain and America during the 1870s and 1880s.
Rather it was Gérôme's Black Bashi-Bazouk (Ackerman, c.r. #193), exhibited at Henry Wallis's legendary French Gallery the year before that it bears the closest affinity. In fact, the same bejeweled ivory sword handle appears in both works, as it did in Bargue's later La Sentinelle of 1876 and Sentinelle Turque of 1877 (Boston Museum of Fine Arts, #03.601), no doubt a souvenir from Gérôme's 1868 expedition to Egypt. Similarly, elements of the same multicolored tasseled turban also form a focal point for Nègre Assis. Like his compatriots Gérôme, Tissot, and Toulemouche, Bargue evidently gloried in the brilliant hues and fine textures of contemporary fabrics; but according to a good number of the more observant critics and collectors, he surpassed them all as a colorist and master of realist detail. During his relatively short lifetime, it was even said, "he painted with eyelashes." Indeed, it was only the renowned Meissonier, the highest priced living artist of the day, with whom he can be compared in this domain. Perhaps this explains why Bargue appealed to many of the same collectors, like the Vanderbilts, and obtained prices, especially after his premature death, vastly in excess of most other artists, including the best-known impressionists. With the rise of that group to prominence - even dominance - at the end of the 19th and continuing through most of the 20th century, Bargue, like most of his fellow Academicians, was all but forgotten.