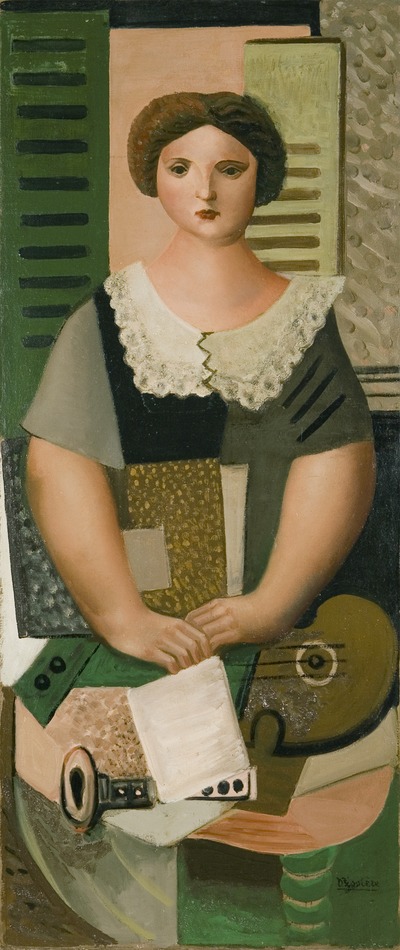 Roger Bissière
French, 1886 - 1964
Jeune Femme à la Guitare (Portrait of Mousse Bissière)
1920
Oil on canvas
48 7/8 x 21 3/8 inches (124.14 x 54.29 centimeters)
Framed: 57 x 29 3/4 inches (144.78 x 75.57 centimeters)
Signed lower right: Bissière
Inscribed and dated on stretcher: Bissière Mousse 1920
SOLD
Provenance:
La Varenne-Sainte-Hilaire, 18 Dec 1988, no. 107 (ill.)
Drouot Montaigne, Paris, 22 Nov 1989, no. 121 (ill.)
Collection of Mike Nichols and Diane Sawyer
Literature:
Isabelle Bissière and Virginie Duval, Bissière catalogue raisonné (Paris: Ides et Calendes, 2001), vol. 2, p. 71, no. 188 (listed with date of 1922).
By 1920, the artistic battles that had marked the first decades of the twentieth century and the swift rise to prominence of modernity had abated. The cultural shock left by the First World War left artists, critics and writers looking for means to reconnect with a more simple past and with longstanding traditions. Artistic currents once recognized for their departure from the juste milieu now sought to look back to a more coherent mode of representation: this was the period of Picasso's bathers and the abstracted nude allegorical figures of Aristide Maillol. It is in this atmosphere that Roger Bissière developed his particular approach to Cubism. Abandoning the cubist approach that sought to break and dissolve form, the new Cubism sought formal simplicity and harmony based on a logical, classical order. The Portrait of Mousse Bissière is an excellent concretization of the new Cubist principles.
The artist's wife, Catherine Lucie Lotte, nicknamed Mousse, is posed behind a table with a guitar and clarinet. The planes of her face and arms are modeled into smooth cylinders, while other items in the composition are painted in flat, simple shapes. Her expression is quiet, almost monolithic, and noble, giving a sense of classical serenity. The presence of musical instruments bring to mind the concepts of harmony and rhythm, both ideas explored by the new Cubist theory. Despite the smooth, flattened forms of the painting, Bissiére utilizes shapes of thick impasto, heightening the painterly qualities of the work.
Roger Bissière (French, 1886 - 1964)
Bissiére was a regular participant in the Parisian exhibitions that catered to modern trends. He exhibited at the Salon d?Automne from 1919 to 1923. Although he began painting at a young age, Bissiére himself considered 1919 the year of his true artistic debut. It was around this time that Bissiére befriended André Lhote and Georges Braque and, perhaps under their influence, embraced a Cubist aesthetic. In 1920, the year of the present work, Bissiére participated in the Salon de la Jeune Peinture. This exhibition marked the new direction of the Cubist movement. Highly interested in the intellectual and theoretical aspects of Cubist painting and its ties to the French tradition, Bissiére also published articles on Seurat, on Ingres, and on Corot in the journal L?Esprit Nouveau.
Selected Museum Collections:
Bordeaux, Musée des Beaux-Arts; Musée de Grenoble; The Hague, Gemeentemuseum; Israel Museum, Jerusalem; London, Tate Gallery; New York, Museum of Modern Art; Paris, Musée Nationale de l?Art Moderne, Centre Georges Pompidou; Zurich, Kunsthaus;
News on the artist
Jacque

#Villon

's windows for Metz Cathedral were designed the same year as this painting http://t.co/vzteFn1I - http://t.co/XoerZhan

#Cubism

October 21, 2011 @ 6:59 PM UTC

July 31, 2012 @ 6:53 PM UTC

April 11, 2013 @ 2:38 PM UTC