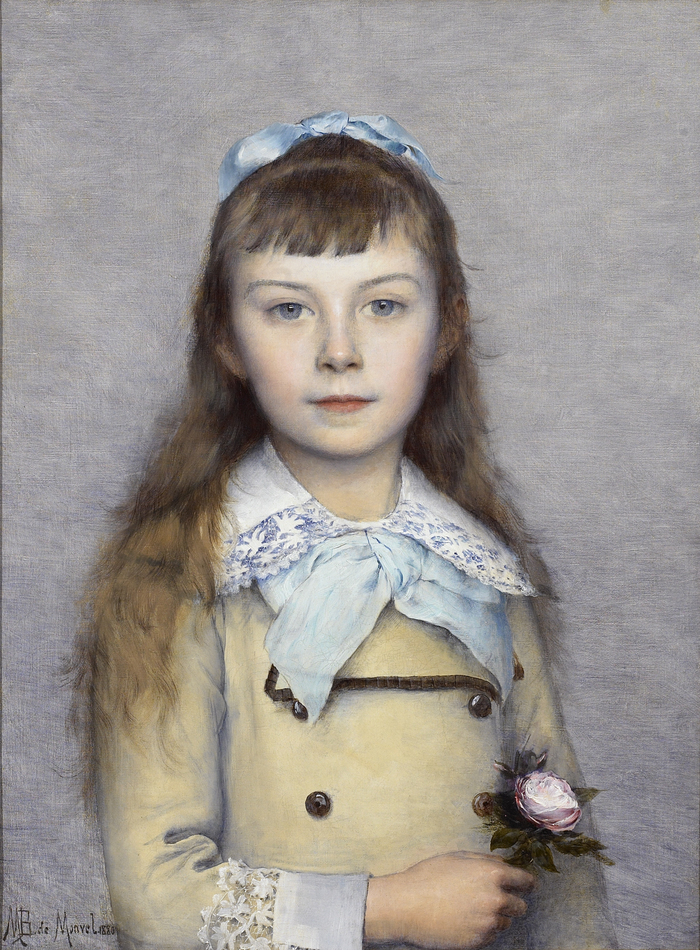 Louis-Maurice Boutet de Monvel
French, 1851 - 1913
Portrait of a Young Girl
1880
oil on canvas
24 1/4 x 18 1/8 inches (61.6 x 46.04 centimeters)
Framed: 31 1/2 x 25 1/2 inches (80.01 x 64.77 centimeters)
signed and dated lower left: MB de Monvel
SOLD
The present work is an exceptionally engaging portrait of young girl. Painted in 1880, the painting was created at the height of the Naturalist movement in France and at the birth of Symbolism and evokes both movements in its precision and intensity. The young sitter grasps a rose and looks intently at the viewer. The quiet curiosity of her expression, combined with the soft color and delicate brushwork of the piece gives it an interest that extends beyond mere portraiture. The girl's confident stare recalls the focus of Jules Bastien-Lepage's 1875 The Communicant, or of the intensity of Fernand Knopff's 1885 Portrait of Jeanne Kéfer. Boutet de Monvel's complementary pursuits of portraiture and illustration lead him to be a wonderful painter of children. A similar portrait of another young girl, Elizabeth Lasell, hangs in the collection of the Currier Museum of Art.
Louis-Maurice Boutet de Monvel (French, 1851 - 1913)
Louis-Maurice Boutet de Monvel began his studies at the Ecole des Beaux-Arts in the atelier of Alexander Cabanel in 1870. This was a turbulent year in French history, marked by the Franco-Prussian War and the Paris Commune. After the war, Boutet de Monvel continued his studies under Jules Lefebvre, Gustave Boulanger and Carolus-Duran. From the latter he developed a love of portraiture which persisted throughout his career. He exhibited his portraits, and genre, religious and orientalist scenes at the annual Salons beginning in 1873.
In 1885 his Apotheosis of a Scoundrel (or Apotheosis of Robert Macaire) caused a drama at the Salon (Musée des Beaux-Arts de Orléans). The work depicted the archetypical criminal and assassin from French literature crowned and on a throne with a knife in one hand and an open bottle in the other. His dirty, bare feet rest on the dead figure of La France, lying atop the rubble of a barricade. Various figures surround him with arms raised while a man in a top hat and tailcoat holds his hands over the scoundrel?s head in blessing. The painting was accepted to the Salon, but on the eve of the opening, it was removed for its potentially politically inflammatory content.
Boutet de Monvel?s great talent for depicting such compelling narratives also made him a great illustrator. He illustrated numerous children?s books, including La France en zig-zags (1881), Vieilles chansons pour les petits enfants, Chansons de France pour les petits, Anatole France?s Nos enfants: Scènes de la ville et des champs (1887), and the fables of La Fontaine.
Selected Museum Collections:
Musée d?Orsay, Paris; Bibliothèque des arts décoratifs, Paris; Corcoran Gallery of Art, Washington DC; Currier Museum of Art, Manchester, NH; Brooklyn Museum of Art, NY; Musée des Beaux-Arts de Orlèans; Château Musée de Nemours;