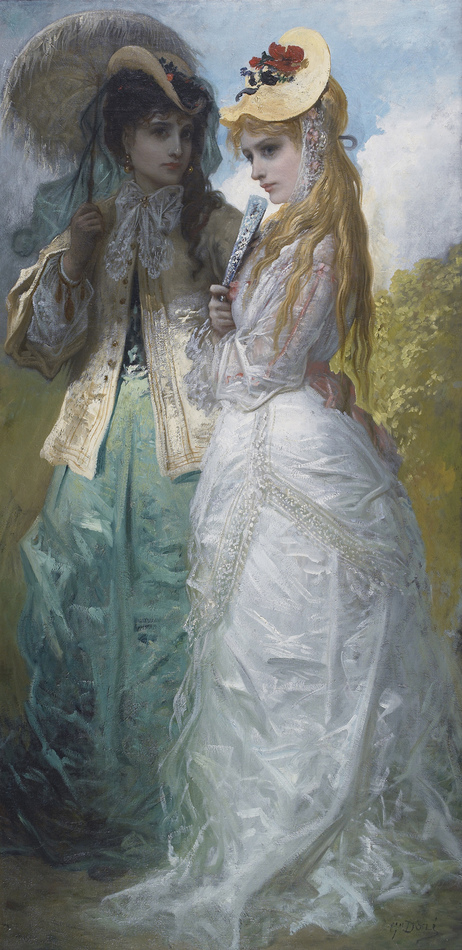 Gustave Doré
French, 1832 - 1883
Miladys at Hyde-Park
Oil on canvas
84 3/4 x 40 1/2 inches (215.27 x 102.87 centimeters)
Framed: 91 1/2 x 48 3/4 inches (232.41 x 123.83 centimeters)
Signed lower right: Gv Doré
SOLD
Provenance:
The artist's studio sale, Paris, 10-15 April 1885, no. 24 (as Myladies à Hyde Park)
Sale, Palais Galliera, Paris 23 June 1964, lot 76, (as Jeunes Femmes a la Promenade)
Private Collection, CA
Literature:
Louis Dézé, Gustave Doré: bibliographie et catalogue complet de l'oeuvre (Paris: M. Seheur, 1930)
Henri Leblanc, Catalogue de l'Oeuvre complet de Gustave Doré (Paris: Ch. Bosse Librairie, 1931): p. 535, no. 24 (as Miladys (sic) à Hyde-Park)
Throughout the 1860's and 1870's Doré divided his time between Paris and London, and in 1872 he published a book of prints titled "London: a Pilgrimage." This project explored the daily life of Londoners, from workmen in action, to begging children in the streets, and to elegantly dressed ladies perched side-saddle at Hyde-Park. In the late 1860's Doré created many sketches and watercolors for the project and for himself. This painting, although atypical of Doré, was probably a later work drawn from these studies, particularly those which focused on the latest London fashion on display in Hyde-Park.
Although this work is undated, the beautiful and luxurous gowns illustrated in this painting reference the early 1870's. The Dolly Varden dress style, inspired by a Charles Dickens character and popular from 1869 to 1875, is apparent in the draped overskirt of the lady dressed in white as well as her fan, which is remincent of the 1780's.
Gustave Doré (French, 1832 - 1883)
Throughout his lifetime Gustave Doré was internationally acclaimed as an illustrator, which often eclipsed his significance as a fine artist; it was not until after his death that critics, collectors, and connoisseurs came to realize the importance of Doré the painter and sculptor. The retrospective at the National Gallery of Canada, travelling from the Muse d?Orsay, titled ?Gustave Doré: Master of Imagination? explores Doré?s oeuvre from sketches to monuments and takes particular interest in his paintings.
His paintings are influenced greatly by his illustrations, they are theatrical and dramatic; he often employed intense lighting on an isolated object to create a spectacle effect. His style of painting made him wildly popular in England.
Selected Museum Collections:
The Metropolitan Museum of Art, New York; Musée du Louvre, Paris; Musée d?art moderne et contemporain, Strasbourg; Musée d?Orsay, Paris; The Morgan Library & Museum, New York; The British Museum, London; Musée Goupil, Paris; The National Gallery of Canada, Ottawa; Victoria and Albert Museum, London; Museum of London; National Gallery of Art, Washington D.C.; Museé Magnin, Dijon; The Royal Collection, London; Musée d?art Roger-Quilliot, Clermont-Ferrand; Museum of Fine Arts, Boston; Indianapolis Museum of Art; Seattle Arts Museum; Phoenix Art Museum; Museu Nacional de Belas Artes, Rio de Janerio; Statens Msuem for Kunst, Copenhagen; Cleveland Museum of Art