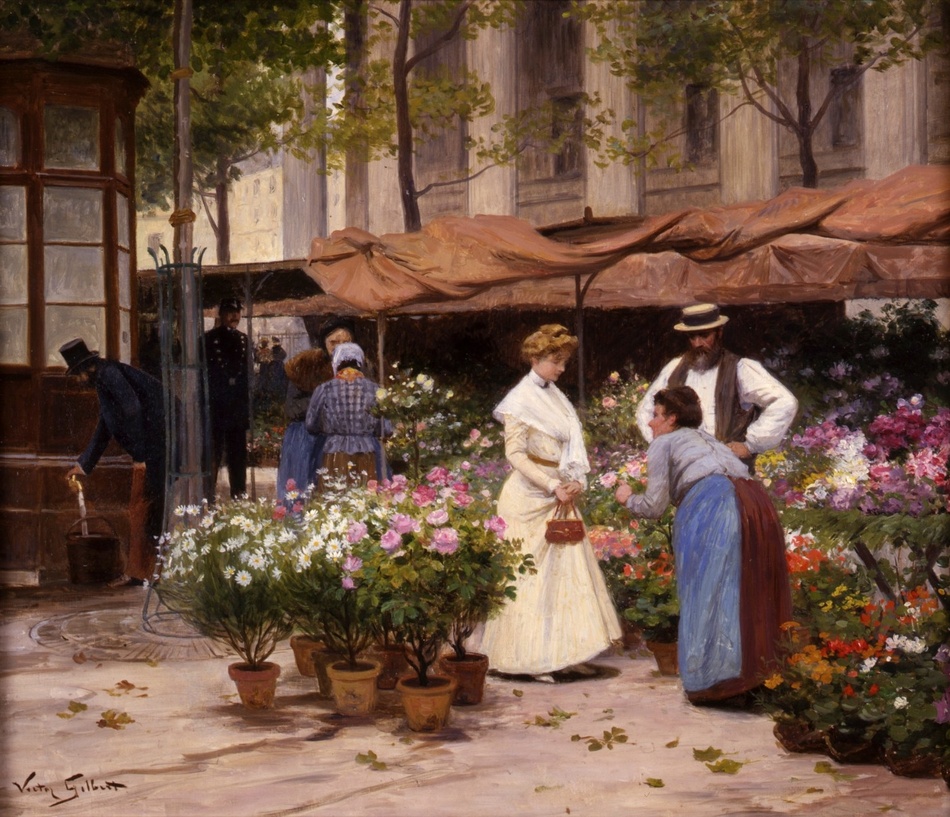 Victor Gabriel Gilbert
French, 1847 - 1933
Marché aux Fleurs
Oil on canvas
21 1/2 x 25 inches (54.61 x 63.5 centimeters)
signed lower left: Victor Gilbert
SOLD
Victor Gabriel Gilbert (French, 1847 - 1933)
Gilbert's picturesque Parisian scenes take place in the streets, markets and parks of Paris as well as in refined and intimate interiors. The plein-air light and feathery brushwork that define his genre scenes demonstrate the stylistic impact of Impressionism, framed by the naturalism of the late nineteenth century.
Victor-Gabriel Gilbert was born February 13, 1847 in Paris, just shortly before the 1848 Revolution which brought about reforms in the Salon system that allowed more artists to introduce new work. Since Gilbert?s parents did not have enough money to send him to the École des Beaux-Arts for training, he instead began working as an apprentice at thirteen to Eugène Adam, a painter-decorator. At night he would also take lessons at the École de la Ville de Paris, which was his only form of official artistic training. As many of the École des Beaux-Arts ateliers relied on a more rigidly academic form of training and style of painting, his lack of extensive studies may have forced him to look towards daily life for his inspiration.
Gilbert debuted at the Salon of 1873 with Les Apprêts du Diner (Preparing Dinner) and Avant le Bal (Before the Ball), just a year before the Impressionist group showed their paintings at the first ?Impressionist? exhibition at the photographer Nadar?s studio. During the mid-1870s Gilbert was supported financially by Père Martin, who owned an art shop on the rue Lafitte. Martin was an important supporter of the Impressionist movement and was greatly involved in the promotion of young and promising artists. He secured several of Gilbert?s works for himself and, in return, Gilbert executed Portrait of Mme. M, which was exhibited at the 1875 Salon.
Early in his career Gilbert focused on still lifes, but as he reached his maturity he turned increasingly towards typical themes of Realism. He became the painter of Les Halles, an area in Paris that still exists today, but which then was a center for street vendors and markets. Many of these scenes were fish markets, and one of his works, that of Un Coin de la Halle aux Poissons; le matin (A Corner of the Fish Market; morning), exhibited at the 1880 Salon, garnered him his first medal, a second-class award; it was also purchased by the State. ?Since Gilbert was familiar with Naturalist literature, specifically with the novels of Émile Zola, he was aware of the author?s view of Les Halles as a symbol of the dynamism and energy of Paris,? a point explained in The Realist Tradition (pg. 217) suggesting that Gilbert was equally interested in combining literary texts with his compositions and was inspired by literature as well as daily life for the execution of his compositions. It is further noted that (The Realist Tradition, pg. 221):
Victor Gilbert?s ability to capture different work activities and social types is another aspect of his style. Gilbert?s frequent visits to Les Halles enabled him to witness many activities. Stressing the actuality of the scene, his visual description helped make him the renowned master of Les Halles by 1885.
Gilbert had created a niche for himself and for his work in the realistic depiction of Parisian life. His varied scenes of current life in the French capital made him a popular candidate for purchases by the French state, who purchased the 1880 Un Coin de la Halle aux Poissons; le matin as well as Gilbert?s 1884 Salon entry Porteurs de Viande (* Meat Haulers*). As his style progressed, Gilbert adopted more charming urban scenes, linking him more intimately with Impressionist painters, especially Pierre-Auguste Renoir and his interest in beautiful bourgeois women taking part in their leisurely activities. With this shift in theme, Gilbert also moved towards a lighter toned palette.
Gilbert continued to submit regularly to the Salon until 1933. In 1926 he received the Prix Bonnat. Earlier in his career, in 1897, he was also named Chevalier de la Légion d?Honneur and was also a Salon juror at one point. Gilbert died on July 21st, 1935, and is now buried at the Montmartre cemetery in Paris.
Selected Museum Collections:
Musée des Beaux-Arts de Bordeaux; Château Musée de Dieppe; Musée des Beaux-Arts de Lille; Musée du Petit Palais, Paris; Musée des Beaux-Arts de Pau; Musée des Beaux-Arts de Rouen; Musée maritime de l?Ile Tatihou, Saint-Vaast-la-Hougue; Musée d?Art moderne et contemporain, Strasbourg;