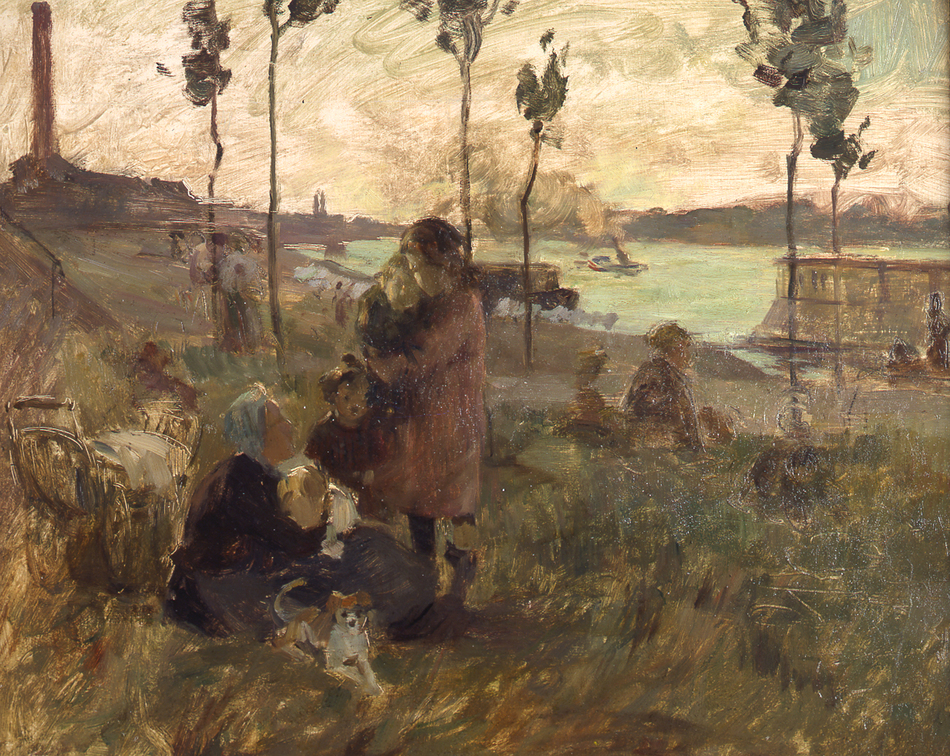 Norbert Goeneutte
French, 1854 - 1894
Mother and Children along a River
Oil on cardboard
15 x 18 1/8 inches (38.1 x 46.04 centimeters)
SOLD
This painting is accompanied by a certificate of authenticity from Marc Ottavi.
Norbert Goeneutte (French, 1854 - 1894)
Goeneutte began his career in the studio of Isidore Pils, a successful painter of military and genre subjects. The young artist eschewed the idealizing formal vision of Pils, however, for a social realism which owed much to the work of his slightly older contemporaries Jean-Francois Raffaëlli and Edgar Degas, who were exploring various aspects of contemporary life. Stylistically, Goeneutte worked in a highly finished style which recalls the work of Tissot and De Nittis, although the latter two preferred to paint scenes of more elegant society.
As a third-generation Realist, Norbert Goeneutte was closely linked to the Impressionist movement because of his themes of Parisian life, (in fact, he posed for one of the male figures in Renoir?s Le Moulin de la Galette) but he also represents a transitional place in the evolution of the Realist tradition in his later themes, which were inspired by the Naturalist novels of Emile Zola. Goeneutte was trained as a printmaker and maintained an avid interest in this medium?an interest which he shared with other members of the Impressionist circle, including Marcellin Desboutin and Jean François Raffaëlli.
Selected Museum Collections:
Musée d?Orsay, Paris; Musée des Beaux-Arts de Bordeaux