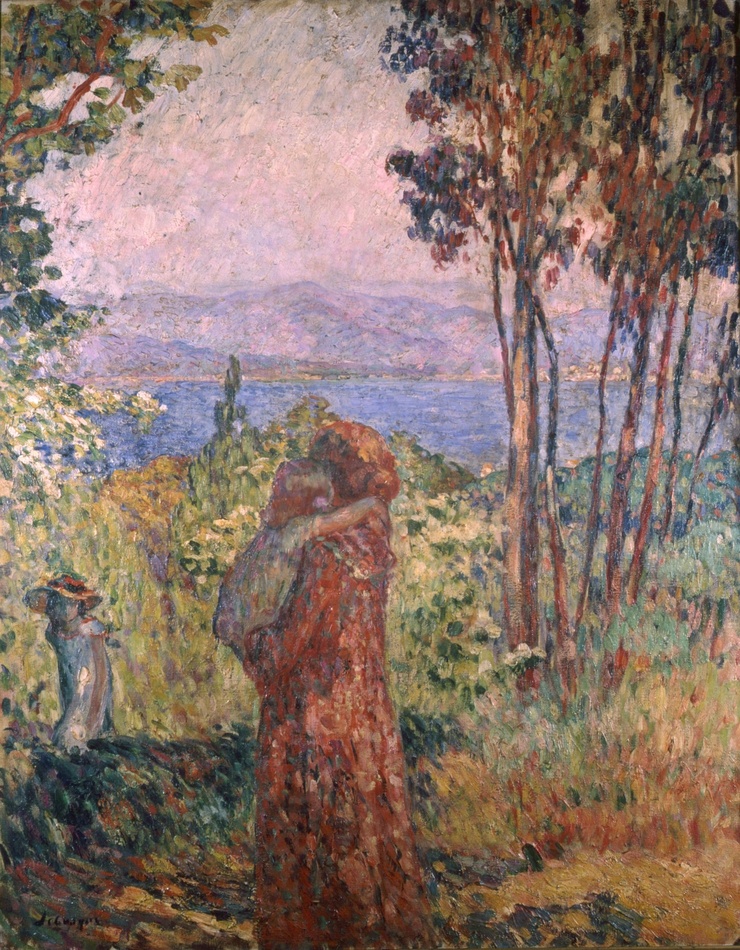 Henri Lebasque
French, 1865 - 1937
Promenade à Saint Tropez
1906
Oil on canvas
36 x 29 inches (91.44 x 73.66 centimeters)
signed lower left: Lebasque
SOLD
Provenance:
Goupil Gallery, 1912
Galerie Georges Petit, 1927
Exhibited:
The Goupil Gallery Salon, 1912, no. 112.
Literature:
Paul Vitry, Henri Lebasque, Paris, 1928, ill. p. 55.
Henri Lebasque (French, 1865 - 1937)
Hailed by critics and artists alike as 'the painter of the good life', Lebasque was acclaimed for his individuality, his delicate sense of light and his personal charm. Such were the qualities that prompted Beaunier to write: 'Lebasque merits the renown of a lovely original artist, who knows his calling, uses it well, and never abuses it'. (Gazette des Beaux Arts, May, 1908, p. 366)
Born in Champigné, Lebasque went to Paris in 1885 and studied at the Ecole des Beaux Arts. He then entered the atelier of the portraitist Bonnat and began to exhibit at the annual art society exhibitions and the Paris Salons. He later assisted Humbert with the decorative murals of the Panthéon.
Lebasque's vision was colored by his contact with younger painters, especially Vuillard and Bonnard, founders of the 'Nabis' group and 'Intimists' who first favored the calm and quietude of domestic subject matter. Lebasque was also influenced by the theories of Seurat and Signac, whose work on complimentary color remained essential to his technique throughout his life.
Lebasque was a founding member of the Salon d' Automne in 1903 with his friend Matisse. Two years later a group of artists exhibited there, including Rouault, Derain, Vuillard, Manguin and Matisse. Dubbed, 'Les Fauves' for their stylistic savagery, it was noted by the critic Vauxcelles, that Lebasque's talent arrived 'in the midst of the roaring of the unchained beasts'. Like 'Les Fauves', he adopted a similar flatness of shape and color, but blended with a sophisticated and subtle fluidity.
Selected Museum Collections:
Harvard University Art Museum, Cambridge MA; Thyssen-Bornemisza Museum, Madrid; Musée du Louvre and Musee d?Orsay, Paris; Fine Arts Museums of San Francisco; Chi-Mei Museum, Taiwan; National Museum of Western Art, Tokyo; Hugarian National Gallery, Budapest; Statens Museum for Kunst, Copenhagen; Museum voor Schone Kunsten, Gent; Christchurch Art Gallery, New Zealand; Indianapolis Museum of Art;