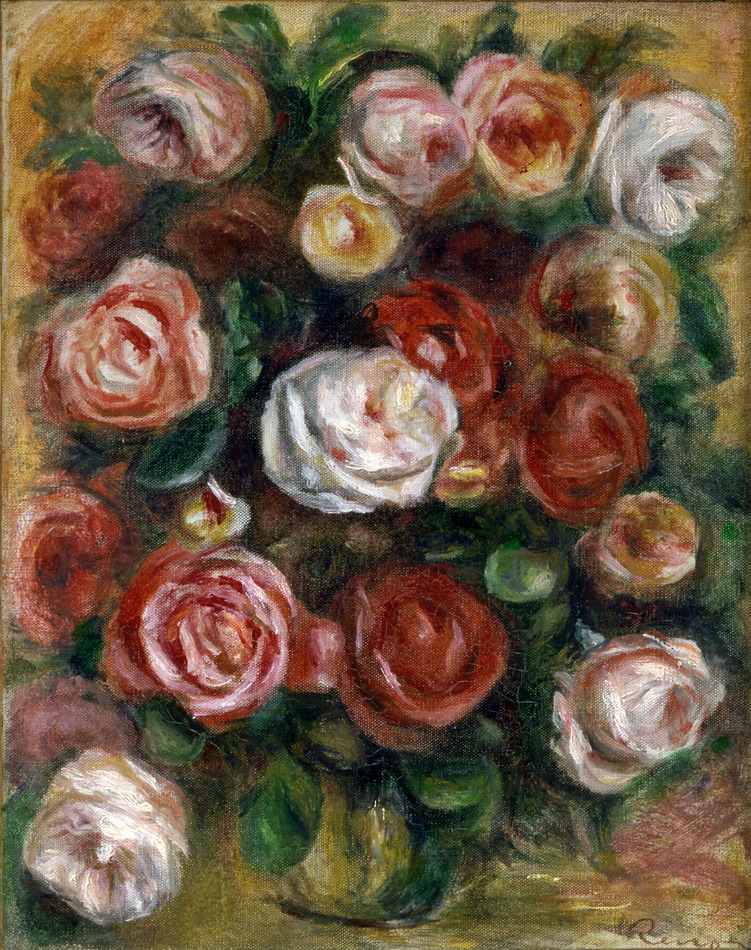 Pierre-Auguste Renoir
French, 1841 - 1919
Vase de Roses
Oil on canvas
16 1/8 x 13 inches (40.96 x 33.02 centimeters)
Signed lower right: Renoir
SOLD
Provenance:
Pierre Travers, Paris
Trosby Galleries Inc., Palm Beach, FL
Private Collection, FL (acquired 14 Feb 1972)
Sold by the above at Christie's NY 12 May 1993, lot. 22
Private Collection, NY
Sotheby's NY, 11 Nov 1999, lot 222.
Literature:
Ambroise Vollard, Tableaux, Pastels et Dessins de Pierre-Auguste Renoir, vol. 2, Paris, 1918, ill. p. 53.
This work is accompanied by a certificate of authenticity from the Wildenstein Institute (30 Jan 2003).
François Daulte will include this painting in vol. V (Natures Mortes) of his forthcoming Renoir catalogue raisonné.
Flowers, either as the single focus of a composition or as elements in larger works, provided Renoir with a perfect subject to explore the subtle effects of color, light and texture. In his still-lifes, Renoir could concentrate purely on the coloristic concerns of the composition. He explained his method of working to Albert André, "I just let my brain rest when I paint flowers…I establish tones, I study the values carefully, without worrying about losing the picture" (quoted in W. Gaunt, Renoir, Oxford, 1983, p. 32).
Renoir strove for the same qualities of spontaneity and naturalness in his still lifes that he did in his portraits. Working with vigorous brushwork and portraying the flowers in informal arrangements, he captures their living character. In Vase de Roses, a dynamic color effect is achieved by contrasting the cooler green tonality of the vase with the infinitely various warm tones of the of the bouquet. Academic tradition long held that floral still lifes were to be carefully arranged with an eye to achieving balanced harmonies, but Renoir's compositions represent a radical break with this notion. As he explained, "When I have arranged a bouquet in order to paint it, I look at it from every angle and remain standing at the side I had not thought of" (quoted in G. Adriani, Renoir, exh. cat., 1999, p. 274).