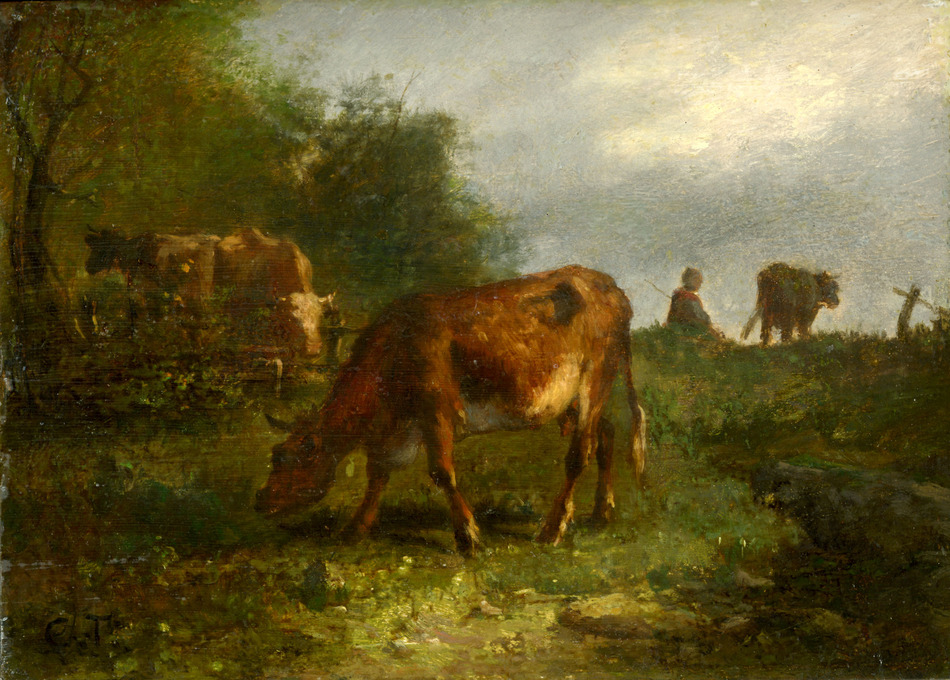 Constant Troyon
French, 1810 - 1865
The cattle tender, Fontainebleau
Oil on panel
6 1/8 x 8 1/2 inches (15.56 x 21.59 centimeters)
Framed: 15 1/2 x 18 1/2 inches (39.37 x 46.99 centimeters)
Monogrammed lower left: C T
SOLD
Provenance:
Knoedler & Company, New York
Mrs. Paul Moore, New York
The current painting demonstrates the incredible portrayal that Troyon could achieve with the utmost efficiency of brushstroke and cool, silvery lighting. The grazing cow at the center of the composition is painted with her full weight and volume in just a few strokes of brown and creamy white. Two more cattle stand behind a worn wooden fence at left in the shade of dense trees. Almost obscured in flat, green shadow, the broad planes of their foreheads and hindquarters are highlighted with soft light. At right, the horizon opens to a calm, blue sky and a little cattle tender sits in profile, dressed in a red smock, watching another heifer who looks into the distance over the hilltop. The work shows that beyond his skill as a significant Realist and painter of animals, his status as a painter who could rival the 17th century models who had inspired him.
The work was once in the collection of Mrs. Paul Moore, an important New York collector of English art and furniture, portions of whose collection have been bequeathed to the Metropolitan Museum of Art and Yale University Art Gallery.
Constant Troyon (French, 1810 - 1865)
Constant Troyon was born August 28, 1810 in Sevres, where both of his parents were employed in The Sevres Porcelain Factory. He was trained by Riocreux, who was in charge of the porcelain museum at the Factory, and worked as a painter on porcelain. He drew and painted from nature in his spare time. In about 1824 he met Diaz, who became a closed friend. He made his debut at the Salon with three conventional landscapes and continued to work as a porcelain decorator. He painted in Sologne, in Brittany and with Jules Dupré in 1843, in the Landes. In the same year he met Rousseau and went to work in Barbizon, where he received his true introduction to landscape painting. Troyon exhibited views of the Forest of Fontainebleau at the Salons of 1844, 1846,and 1848. The decisive moment of his career came in 1847 during a visit to Holland, when he saw the work of Cuyp and Potter for the first time. He began to introduce domestic animals into his own pictures and became as a result a famous animal painter. He continued to paint landscapes, working mainly in Normandy, and the area of Tours, also visiting England and Tours and returning occasionally to the Barbizon region. In 1859 he advised the young Monet to work out of doors. He gained an international reputation via many exhibitions of his work, which were held in collections abroad, and he was swamped with commissions. In his last years he painted seascapes on the Normandy coast; it was during this period that Boudin worked for him. Constant Troyon died March 20, 1865 in Paris at the age of fifty-five.
Reprinted from The Barbizon School and 19th Century French Landscape Painting.
Selected Museum Collections:
Paris, Musée d?Orsay, Musée du Louvre; New York, Metropolitan Museum of Art, Frick Collection, Brooklyn Museum; Boston, Museum of Fine Arts; Buenos Aires, Museo Nacional de Bellas Artes; Cambridge, Harvard University Art Museums; Art Institute of Chicago; Detroit Institute of Arts; Los Angeles County Museum of Art; Pasadena, CA, Norton Simon Museum; Philadelphia Museum of Art; Pittsburgh, Carngie Museum of Art; Fine Arts Muesums of San Francisco; Hermitage Museum, Saint Petersburg; Taiwan, Chi-Mei Museum;Washington DC, National Gallery of Art; Williamstown, MA, Clark Art Museum
News on the artist
July 27, 2011 @ 2:40 PM UTC

Now in Glasgow:

#Millet #Barbizon

Pastel of "The Angelus" Allocated to Kelvingrove Art Gallery and Museum: http://t.co/soF2LMA via

@AddThis

August 1, 2011 @ 3:35 PM UTC

October 6, 2011 @ 3:00 PM UTC

October 20, 2011 @ 9:17 PM UTC

November 1, 2011 @ 3:38 PM UTC

November 3, 2011 @ 4:34 PM UTC

December 12, 2011 @ 10:53 PM UTC

When you visit the new 19th-century galleries

@ngadc

don't miss this

#Rousseau

http://t.co/Qgr6EWp5 and http://t.co/awPyBEDl

#Barbizon

January 30, 2012 @ 10:42 PM UTC

February 7, 2012 @ 10:14 PM UTC

March 16, 2012 @ 7:56 PM UTC

April 10, 2012 @ 2:50 PM UTC

April 10, 2012 @ 3:09 PM UTC

April 13, 2012 @ 9:22 PM UTC

April 13, 2012 @ 9:23 PM UTC

May 30, 2012 @ 7:40 PM UTC

July 2, 2012 @ 4:03 PM UTC

July 16, 2012 @ 8:01 PM UTC

August 29, 2012 @ 10:26 PM UTC

#Courbet

's Majestic Oak Painting Returns to Its Roots After Hometown Museum's $5-Million Purchase http://t.co/y2JTiZXo

#Barbizon #Realism

September 7, 2012 @ 3:07 PM UTC

November 19, 2012 @ 10:19 PM UTC

January 28, 2013 @ 11:44 PM UTC

February 14, 2013 @ 4:00 PM UTC

March 12, 2013 @ 3:27 PM UTC

March 21, 2013 @ 2:55 PM UTC

March 22, 2013 @ 9:14 PM UTC

Happy belated bday Theodore

#Rousseau

http://t.co/7UrhiBahm6 and Jules

#Dupre

http://t.co/ATFe97j3cs. Apr 15 -a great day for

#Barbizon

art

April 16, 2013 @ 4:05 PM UTC

June 10, 2013 @ 3:41 PM UTC

Now at Schiller & Bodo : MASTERWORKS OF THE BARBIZON SCHOOL, on view through November 27 http://t.co/pgDhaUAscc

#Barbizon #exhibitions

November 5, 2013 @ 4:10 PM UTC

April 15, 2014 @ 5:33 PM UTC

And Happy Birthday Jules

#Dupre

- April 15, 1811 - a great day for

#Barbizon

School painters! http://t.co/62PKvhJpN8

April 15, 2014 @ 7:03 PM UTC

May 1, 2014 @ 3:35 PM UTC

Here is our current

#exhibition

catalogue: A Romantic Vision, The

#Barbizon

School and its Contemporaries http://t.co/iemkJ4fmdG

May 5, 2015 @ 5:16 PM UTC

August 11, 2015 @ 2:52 PM UTC

March 10, 2016 @ 5:50 PM UTC

March 15, 2016 @ 3:01 PM UTC

April 15, 2016 @ 7:09 PM UTC

June 17, 2016 @ 8:23 PM UTC

July 15, 2016 @ 7:30 PM UTC

July 13, 2017 @ 9:49 PM UTC

October 4, 2018 @ 5:43 PM UTC