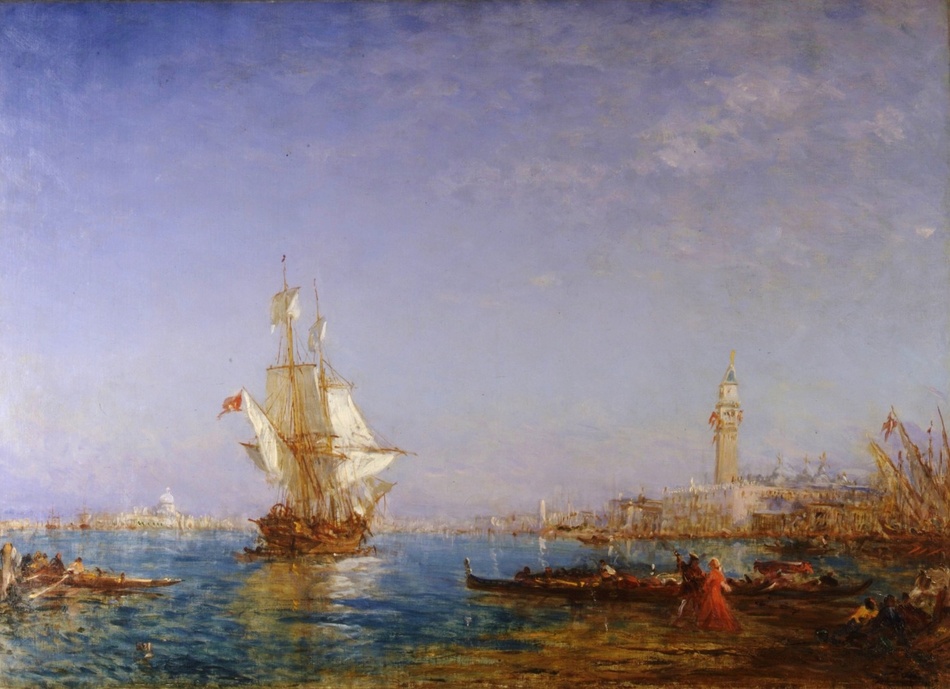 Félix Ziem
French, 1821 - 1911
Le Quai des Esclavons, Venice
Oil on canvas
32 3/4 x 45 inches (83.19 x 114.3 centimeters)
Framed: 42 x 56 inches (106.68 x 142.24 centimeters)
SOLD
Provenance:
A Private New England Collection
Félix Ziem (French, 1821 - 1911)
Born in 1821 in Beaune to a Croatian father and French mother, Ziem initially studied architecture in Dijon. Having a boisterous character, he was expelled in 1838 for unruly behavior. In 1839 he left for Marseille, where he was the Clerk of Works on the construction of the Marseille Canal. That same year, Ferdinand Philippe, the Duc d?Orleans, noticed Ziem?s watercolors. The duke purchased two and commissioned the artist for a further six. This event began Ziem?s career as a professional artist.
As an artist, Ziem became an avid traveler in search of beautiful subjects, favoring areas with unique atmospheric qualities. He owned homes in Venice, the Martigues, Nice and Paris. In 1844 he traveled to Greece, Turkey and Russia, and would later travel through Belgium, Holland, England, Egypt, Hungary and Algeria.
Throughout his career, Ziem was also an active exhibitor in the Paris Salons, beginning in 1849.
Selected Museum Collections:
Musée d?Orsay and Musée du Louvre département des Arts graphiques, Paris; Rijksmuseum, Amsterdam; The Walters Art Museum, Baltimore; Musée des Beaux-Arts et Musée Marey, Beaune; Musée des Beaux-Arts de Bordeaux; Musée des Beaux-Arts de Chambéry; Musée Condé, Chantilly; Art Institute of Chicago; Bowes Museum, County Durham, UK; Musée national Magnin, Dijon; Musée de la Chartreuse, Douai; Musée de Grenoble; Mudée Malraux, Le Havre; Musée des Beaux-Arts de Lille; The Wallace Collection, London; Los Angeles County Museum of Art; Musée des Beaux-Arts de Lyon; Musée des Ursulines, Mâcon; Musée des Beaux-Arts, Musée Cantini and Musée Grobet-Labadié, Marseille; Musée des Beaux-Arts de Nantes; Metropolitan Museum of Art, New York; Musée des Beaux-Arts de Pau; Musée des Beaux-Arts de Rennes; Musée des Beaux-Arts de Rouen; St. Johnsbury Athenaeum, VT; Mildred Lane Kemper Art Museum and Saint Louis Art Museum, St. Louis, MO; Hermitage Museum, Saint Petersburg; Frye Art Museum, Seattle; Musée des Augustins, Toulouse; Musée des Beaux-Arts de Valenciennes; Musée de Vendôme; National Gallery of Armenia, Yerevan;